Thursday 27th March 2014 by Ivan
I am addicted to reading and have spent a lot of money on my book-buying habit, one book always leading on to another. For years, I limited myself to fiction until somewhere along the way, I began to buy and read books about writers: biographies, autobiographies, memoirs, essays, diaries and letters. At one point, I bought a second-hand book about the Russian poet Anna Akhmatova, Anna of all the Russias by Elaine Feinstein. As much as I'd like to admit to a deep appreciation for poetry, it just wouldn't be true. However, I love to read about poets and their writing, even if I don't 'get' their work.
Halfway through the biography, it struck me that I was revelling in reading about Russia. I was unaware of what the Russians had endured, before, during and after World War II. I'd no idea Stalin behaved as he did, killing more of his own people than anyone else.
Next I discovered A Writer's War, a biography about Russian journalist and writer Vasily Grossman. This book not only introduced me to Grossman but also to the British historian, Anthony Beevoir, who wrote it. Grossman joined the Red Army to behold the fight against the invading Germans. This is where I first read about the Battle of Stalingrad. After finishing this biography, I read Grossman's novel, Life and Fate about the battle and civilian life under Stalin. Inevitably, I bought Beevoir's best-selling Stalingrad and by this stage was hooked on history and war. My library was expanding, as any decent library should.
There were two stories in Beevoir's book that jumped out at me. Firstly, how a Russian teacher was ordered by the NKVD to enrol his class of thirty sixteen-year-old boys in the army to fight at Stalingrad. By the time he reached the registry office, half the class had vanished. Beevoir could not confirm the teacher's fate but thought it highly probable that the man paid for this 'infraction' with his life. The second story concerned a massacre of a small Jewish village in rural Russia. The parents were shot first and then, following some debate, so were the children, aged seven right down to toddlers … even babies. This second story also appeared in William Craig's book, Enemy at the Gates (much, much better than the film) and in a documentary I watched on The History Channel. It's not the sort of thing one can easily forget. I'd absolutely no idea how I would incorporate it into a children's novel but I was determined to include it somehow, though even now I can't explain why. Perhaps I will be criticised for this because, well, I won't make it too easy! In any case, it's just a small mention but I stand by it.
From the very beginning, I had two boys in mind. I didn't know who they were but they kept turning up in my mind's eye, walking through the ruined streets of Stalingrad, mostly oblivious to the two warring armies around them.
I wanted the story of the teacher and the fifteen pupils who stood by him. What is it like to be a schoolboy one minute and then an inexperienced soldier in the midst of a deadly battle? I tried to imagine the fear and confusion, especially when it came to actually having to kill another human being who was trying to kill you.
The story grew thanks to the characters. I don't plan my books and generally have little or no idea what I will write, from day to day. This can be quite scary but I can't seem to break the habit.
All I knew was that I wanted to include as much fact as I could, as I did in Spirit of the Titanic. Also, I wanted to show that there could still be beauty in wartime, whether it's a solo rendition of Beethoven or a charcoal drawing of Mary and baby Jesus. Art might not change your life in such situations but it can help, even momentarily, to lift your spirits.
I wanted to explore what motivates a person to fight and keep fighting when all seems lost. I think I managed to work it out: I think it's about the importance of "home".
Just before City of Fate went to the printers, I unexpectedly received the new sixth edition of Spirit of the Titanic. I am writing this essay a month before City of Fate reaches the book shelves and – there's no denying it – I am nervous. Recent sleepless nights have been spent trying to distract myself from visions of readers finishing the new book and finding it inferior to my Titanic story.
However, I have to remind myself that no matter what the reception is or what anyone else says about City of Fate, I did it. I wrote a second novel. And it's a book that I would like to read.
I simply have to accept that I have no control over what happens next!
Nicola Pierce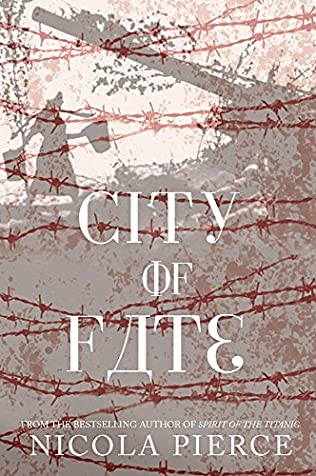 A War Story: Writing City of Fate