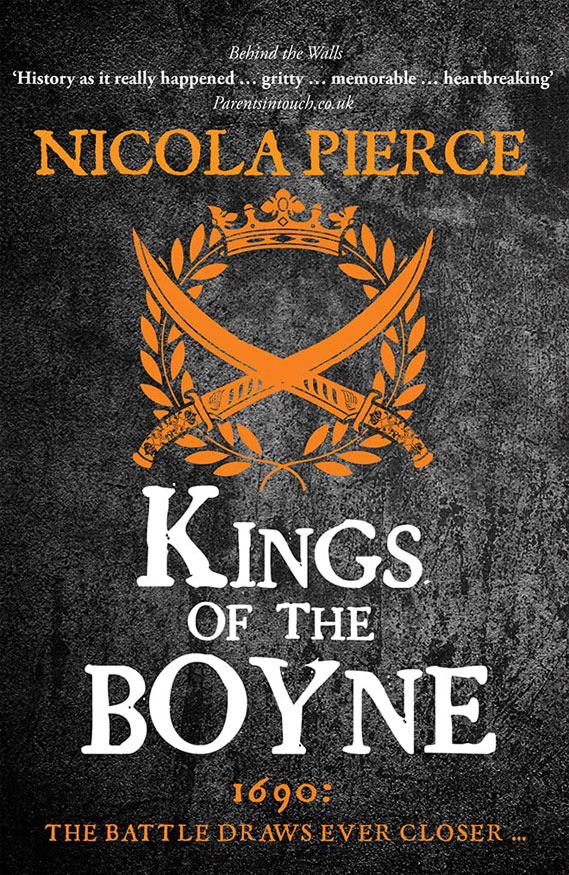 Two kings, Three young soldiers. One battle to end all battles.
Eager to prove his courage and defend his family honour, young Irish noble Gerald O'Connor rides his warhorse Troy north in King James's cavalry.
Brothers Robert and Daniel Sherrard march south from the once-besieged city of Derry with King William's army.
The chosen field of battle – the Boyne – lies waiting, where victory will decide who rules the lands of England, and of Ireland.
And the fighting will decide who survives the deadly game of war.
INFO
Paperback: 336 pages
Size: 196×130 mm
ISBN:9781847176271

EBOOK
ISBN: 9781847179005
REVIEWS
"A seamless fusion of fact and fiction with really great characterisation. A well written book that links good dialogue and crisp engaging, characterisation with a tangible Irish history. The narrative is engaging and will surely appeal to young readers in this age group – especially those interested in historical fiction"
Literacy Association of Ireland

"Nicola Pierce achieves something quite unusual in this book set during the Battle of the Boyne. While it is a book directed at young people it succeeds in looking at war from the inside and, perhaps more importantly, from both sides of the conflict … ideal for the senior classes as further reading in history"
InTouch Magazine

"It is always hard to teach history students to empathise with the horrors of warfare and grasp battle strategies and etiquette but this novel does it very well and it also gives a very poignant and balanced fictional view of the Battle of the Boyne. It may need promoting to students, but I hope it is well read and that it finds a readership not only with students who have Irish blood in their veins but with KS3 and KS4 students from other ethnic groups as this is a painful time in history that they should know about"
School Librarian Magazine

"I have to confess that before reading this story I knew nothing of the events it re-tells—but I decided to leave things that way and see if I could follow it. I'm pleased to report that I could and am now much better informed about the late 17th century in Ireland. Nicola Pierce gives an overview of the battle, the events leading up to it, the outcome, and its meaning and impact for all concerned, while homing in on the detail as it affected the ordinary soldier and citizen. She does this by focusing mainly on the experiences of two teenagers—Protestant Daniel from Derry, and Gerald, the son of an aristocratic Catholic family. Interspersed with their personal stories and those of their companions are chapters that focus on each of the two kings—James II of England and Louis XIV of France—and their feelings and engagement with the struggle. As the battle draws closer, tension rises. There is terror, death and grief, and the full horror and waste of war is revealed. As a historical re-enactment, seen from all sides with realism and compassion, this book is masterly"
Historical Novel Society Review

"Should be required reading for school students everywhere … Pierce relays the intensity and viciousness of the decisive battle in Irish History almost as if she were there herself"
County Derry Post

"Really good and historically accurate … the writing style was very good … it was gripping … you learned a lot while reading it, without realising"
The History Show, RTE Radio 1

"Fans of history aged 9 and upwards will adore the moving and wonderfully written Kings of the Boyne"
irishtimes.com

"A potent mixture of fact and fiction, set in a very credibly delineated Irish landscape"
Irish Examiner

"Nicola Pierce is a fantastic storyteller and here she condenses a number of complicated political and military events and makes them brilliantly readable and enjoyable. Her gift for bringing characters to life through their dialogue, interactions and quirks is uncanny"
Lisa Reads Books

"Once again with clarity and passion, Pierce gives us an intimate picture of the reality of a pivotal historical event … the characters, their relationships and actions/reactions are entirely genuine. The voices telling this story are strong and true. The research into the real Battle of the Boyne seeps through subtly, but with unfading accuracy. The pacing is perfect, matching the actuality of historical events. And the writing is utterly superb, placing the reader firmly in the lives of all the characters, their feelings and the horrific incidents taking place around, though it was over 300 years ago….the reader is there. These are very big concepts related with compassion and honesty, but also with an ease of story-telling that makes the book sing. While historical fiction can be a bit of a 'hard-sell' to young people, not so with Nicola Pierces' books. The ring of truth and the ability to be drawn into to the narrative make this book an incredible reading experience of great impact. Like all her others, simply amazing, a beautiful read and highly recommended to everyone!'="
Fallen Star Stories

"The multiple perspectives and unsentimental writing place the reader deep in the action and serve as a potent reminder of the madness of war and its terrible cost. Both history buffs and casual readers will find this novel a royal feast of storytelling"
CBI Recommended Reads 2016

"Would be excellent to accompany history lessons"
The Irish News

"Author of a number of very fine historical novels for children, Nicola Pierce here continues the story that began in Behind the Walls … Once again the storytelling is taut and compelling and reveals without overstatement how all great historical events are composed of and shaped by the actions and experiences of those caught up in them, from king to foot soldier. The book opens with a heart-rending scene that sets the tone for what follows … The tactics of the battle are clearly described (though without any whiff of textbook) as is the horror of hand to hand fighting. The awfulness of battle feels more terrible because of the space in the book given to lighter moments and for drama that has nothing to do with war; we are always conscious too of the ordinary home lives going on as they always have and not far from the battlefield at all … As well as the main teen protagonists, Pierce allows readers to see much of the action through the eyes of the kings at the head of the armies, James and William. Both are worried about their families, are shown to be struggling under the weight of responsibility, and are convincing and even sympathetic figures… Pierce draws together her characters' stories, the real-life and the fictional, with great skill, and presents a vivid picture of this important slice of history, with compassion for all involved, and in ways that will be catch the imagination of readers of all ages"
Books for Keeps

"Full of action, fast-moving and very descriptive, this is an engrossing account with some exceptionally strongly drawn characters. It really brings the period to life, and will help young people understand this key event in Irish history"
Parents in Touch

"Pierce draws together her characters' stories, the real-life and the fictional, with great skill, and presents a vivid picture of this important slice of history, with compassion for all involved, and in ways that will be catch the imagination of readers of all ages"
booksforkeeps.co.uk

"A great story"
NI4Kids

"How to engage today's children with tales of 300-year-old battles, however, is a challenge, but one that Nicola Pierce is more than equal to"
Evening Echo
PREVIEW
AWARDS
LAI Awards 9-11 Category – 2017
Short-listed
Sign up for the newsletter from updates on Robinson's writing, events and more.