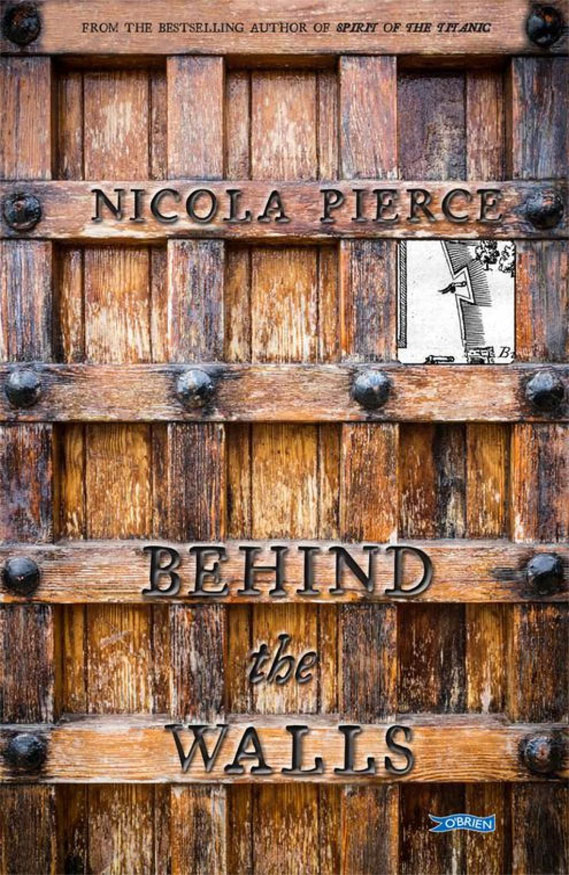 Derry, 1689.
An anonymous letter is read out saying that every last Protestant man,
woman and child is to be murdered. Panic takes hold. Two teenage boys, Daniel and Robert Sherrard, help close the city gates against the approaching Catholic army.
The siege has begun.
Bombs rain down. Behind the walls, tensions grow day by day. Trapped, the people are injured, dying, starving. But there is no going back …
Daniel and Robert are drawn into a fight to the end.
'this fantastically written book will hook you from the start… this is historical fiction at its best.' The Guardian on City of Fate.
INFO
Paperback: 368 pages
Size: 196×130 mm
ISBN:9781847176462

EBOOK
ISBN :9781847177582
REVIEWS
"I am looking forward to reading Nicola Pierce's widely praised book Behind the Walls about the siege of Derry"
rte.ie/culture

"A superb thriller set during the Siege of Derry"
County Derry Post

"A very strong story … a deeply thought provoking book that works at many levels, not least as a well-researched and written historical novel … not a light read but it is a very memorable one"
School Librarian Magazine

"Highlights how far humanity can fall and, ultimately, how far it can soar in the face of adversity"
Children's Books Ireland Recommended Reading Guide

"Excellent … superb in its detail and its incorporation of real-life and fictional characters. The research behind such a novel has been exemplary but textbook fact is never allowed to drown the story's human dimension"
Irish Times

"This novel is more than a mere history book or a retell. It is a well written and lively story … hooked me in from the first page and I think it would be very suitable for fifth and sixth class. Though the protagonists are male, I think female readers would also enjoy this universally relevant piece of historical fiction"
InTouch Magazine

"An exciting account of the siege in workman-like prose and well-plotted action. The two brothers prove an engaging central duo. Good use is made of meticulous research – slang such as 'Redshanks' for the kilted Highlanders that make-up the Jacobite army – and a sprinkling of allegory and history: the Greek story of the Spartans holding the pass at Thermopylae is mentioned. Daniel's endearing pet dog, Horace, often reasons and responds like a human being, and provides another character easy for children to identify with. The gory possibilities of the siege and the antagonism between Catholics and Protestants are not glossed over but are made manageable for the young reader: even an account of the notorious siege of Drogheda by Cromwell is rendered terrifying but not graphic … This book aims to bring to life a period and location not often covered in children's fiction, and would be useful background reading if studying the history of Ireland and England … Recommended for readers aged 8 – 12"
Historical Novel Society

"The history and repercussions of these famed events are well-documented, but what's new here is the insight this novel offers young readers by taking them inside the city walls on a journey that crosses the boundary between fact and fiction … gripping action … [an] important addition to the collection of children's historical fiction being amassed by Dublin's O'Brien Press"
Evening Echo

"As with her other books, Spirit of the Titanic and City of Fate, Nicola Pierce writes with real passion and understanding for her subject. A brave and superb book, I recommend this highly, not just for young people, but for everyone"
Fallen Star Stories

"If you want to introduce your teen to historical fiction, you can't go wrong with Nicola Pierce's books – they are a perfect example of the genre, packed with authentic detail and with exciting and tense stories. This is not glorified history, it is history as it really happened with its gritty and realistic depiction of the terror-struck city of Derry in 1689 where Protestants are threatened by the Catholic army. It's a vivid evocation of life in a city under siege – boredom contrasted with times of real fear. Memorable characters help us share in the feelings of the people trapped and give us an insight into those feelings, both in historical times and today. Heartbreaking in places, the story is testament to the resilience of people; a moving read"
parentsintouch.co.uk

"A significant slice of historic conflict is served with authenticity and sensitivity … a fascinating subject matter … this is a book to encourage imaginations and shows with consideration and compassion how the past is connected to today"
Lovereading4kids

"A stirring tale of valour and honour in the tradition of Walter Scott and Robert Louis Stevenson"
The Irish News

"I think the book is terrific, and I'd go further and say it's an important book, too. To my mind, you've taken something that is generally presented in a sectarian light and shown it as national history. It's a novel that's on the side of youth and spirit and adventure, rather than one tradition or another"
Dominic Kearney

"Fresh take on Siege of Derry"
Derry Journal
PREVIEW
Sign up for the newsletter from updates on Robinson's writing, events and more.