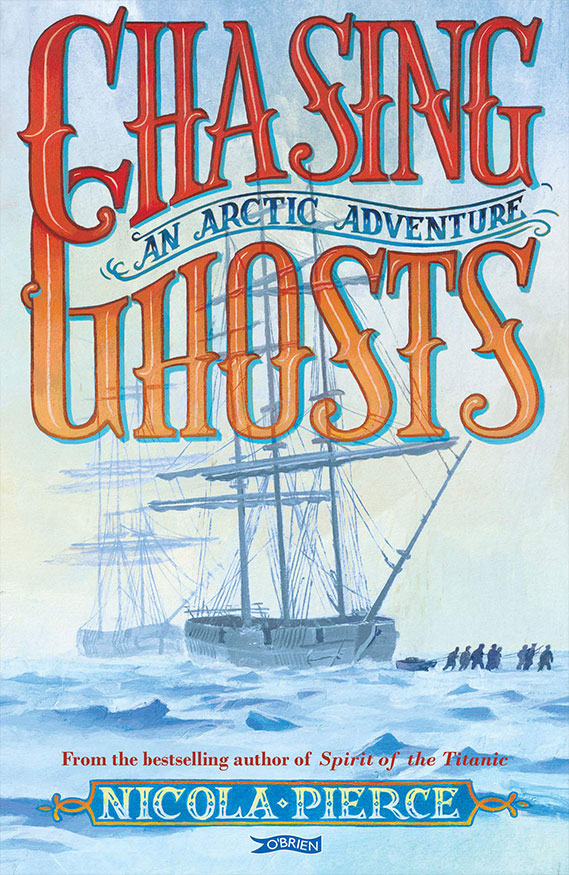 CHASING GHOSTS - AN ARcTIC ADVENTURE
An enthralling novel of two intertwining stories based on real events in 19th century Ireland and the Canadian Arctic.

Two ships Arctic-bound, HMS Erebus and Terror, leave London in 1845, captained by the aging Sir John Franklin. How long they'll be gone depends on the ice. Meanwhile, second-in-command, Francis Crozier, worries about their inexperienced crew.

In Derry, little Weesy Coppin dies of a fever but, as far as her sister Ann and brother William are concerned, her spirit returns to haunt them. While an anxious world waits for news of the Artic explorers, the Coppin family try to understand what is going in their home. But, then, one night, all is revealed when the truth literally steps out of the shadows.
INFO
Paperback: 320 pages
Size:196×130 mm
ISBN:9781788490177

EBOOK
ISBN: 9781788492003
REVIEWS
"A gripping tale … I would highly recommend this book"
Ireland's Own Magazine

"Captivating novel … absolutely enthralling … Nicola Pierce brings history to life in this gripping, exciting, brutal, tragic, at times heart-wrenching, and very well-written novel … suitable for use with fifth and sixth classes"
InTouch Magazine

"The fictional narrative is driven by solid characters, strong dialogue and a swift narrative arc, weaving plotlines back and forth, and inviting readers on an emotional journey through hope and darkness … admirable"
Celtic Life Magazine

"Another brilliantly written book [by Nicola Pierce] … brings together two completely different stories … weaves them together really brilliantly"
RTE Radio 1's Sean O'Rourke show
Elaina Ryan, CEO of Children's Books Ireland

"Enthralling"
NI 4 Kids Magazine
"Has much to recommend it. In both strands of her carefully constructed plot, strong characters shine through"
Evening Echo

"There are two stories to Nicola Pierce's Chasing Ghosts … The two narrative strands are equally vivid and gripping, and Pierce instils both with a matching sense of the totally prosaic (details of daily life) and the truly uncanny … Pierce has a gift for putting young readers at the heart of important moments in history in books including City of Fate and Behind the Walls. While filled with the same inspiring sense of real life events, this seems also to be asking questions about truth, perception and the stories we want to believe"
Books for Keeps
"A compulsive tale for young readers … beautiful, poignant … Chasing Ghosts burns with a cold, fierce flame, telling an enthralling story of bravery, tragedy and grim determination … quietly and insidiously drawing the reader in until gripped, like ice trapping fast an unwary vessel .. will appeal to both girls and boys, not to mention teachers looking for a book that gives a springboard to useful learning … thrilling … riveting and compulsive, Chasing Ghosts is a book which only goes to enhance Nicola Pierce's reputation as one of the best writers for young readers"
Derry Journal, Lurgan Mail, Londonderry & Roe Valley Sentinel
"A novel, for younger readers, which you won't want to miss"
Belfast Telegraph
"Nicola Pierce returns with another eerie, haunting, sea-going historical fiction and it is stunning … the reader is taken on an intrepid and ill-fated mission filled with determination and mystery … gripping, wrapping us in the chilling blanket of never-ending cold and ice to labour on with the adventurers, praying for a heroic, positive outcome. It calls us to suspend our disbelief and embrace the possibility of the other world. You may not want to believe any of this, but its' all there in history. Atmospheric, articulate and intelligent, wonderfully imaginative, impossibly true…this is historical fiction at its' very best"
Fallen Star Stories

"Beautifully written … based on real events … this is a gripping and fascinating story. Perfect for readers of any age with adventure in their hearts"
Irish Independent

"Eminently credible"
Irish Examiner
PREVIEW
Sign up for the newsletter from updates on Robinson's writing, events and more.