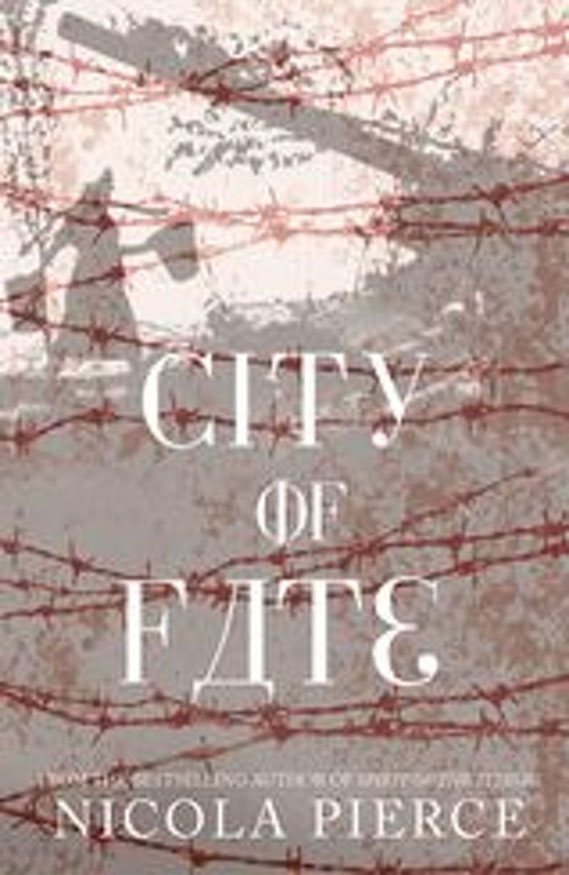 Imagine your home is bombed one Sunday afternoon by a horde of enemy planes. Imagine your family has gone and you are left behind. This is the fate of five-year-old Peter and two teenagers Yuri and Tanya.
Imagine being ordered to leave school to fight the terrifying Nazis in WWII. Imagine you are right in the middle of a battle; it's you or them – you have no choice. This is the fate of Vlad and his three classmates.
The battlefield is the city of Stalingrad, the pride of Russia. Germany's Adolf Hitler wants the city badly, but Josef Stalin refuses to let go.
Nobody has managed to stop the triumphant Nazi invasion across Europe. It all depends on one city – Stalingrad – her citizens, her soldiers and her children.
INFO
Paperback: 272 pages
Size: 196×130 mm
ISBN: 9781847173379

EBOOK
ISBN: 9781847176493
REVIEWS
"It is very clear that Pierce has researched and researched to ensure every element of this novel is believable and every character is genuine … I would love to read more of Pierce's work"
bookangelbooktopia.com

"Compelling and heartbreaking … a compelling narrative which brings a complex historical period to life"
CBI Recommended Reads Guide 2014

"An easy and fast-paced read, slowing only for the more sombre moments of the story. As such, it makes for a fantastic introduction to middle grade World War fiction – educational without ever seeming so, and enjoyable throughout"
The Looking Glass

"Well-crafted, thought-provoking and well-written … gripping, gritty and riveting … this book should be on the reading list of all twentieth-century history modules in school"
Inis

"This fantastically written book will hook you from the start. You rarely find books about the Second World War set in Russia, but this one is utterly brilliant and I'd recommend it to anyone! With believable characters and a fantastic story line, this is historical fiction at it's best."
theguardian.com

"The fight for Stalingrad, August 1942 to February 1943, was one of the defining battles of the Second World War for a number of reasons – most of them grim. It is the sort of bloody and brutal conflict that you would not expect to find in a children's book. However, given that any discussion of World War II will likely turn to Stalingrad at some point, it is a very good idea to give children some idea of what was at stake, who fought, and what it may have been like to be there … Nicola Pierce makes good use of the pressure cooker atmosphere of the city to bring the children, and the struggle they face, to life. The reader cares about what will happen to them. Their situations are not sugar-coated, but neither are they too distressing to read. It should encourage children aged 12-14 to find out more both about Stalingrad and about the wider Second World War."
www.historicalnovelsociety.org

"Love when YA books take on more difficult subjects like this … will appeal to readers of all ages … an emotional story about what really makes us human"
GoBookYourself.info

"A consistently compelling novel, combining rich characterisation with a powerfully evoked sense of time and place"
Irish Times

"Gripping"
RTE Guide

"Powerful"
Evening Echo

"When picking up a Second a World War novel there is a certain amount of trepidation on my behalf as it can be difficult for an author to tell an original story, a story that captures the horror of war and yet at the same time entertains us as a reader. In 'City of Fate' Nicola Pierce blows my fears out of the water with an superbly written novel which does all of the above and quite a bit more as well … amazingly powerful … a richly evocative story which will stay with the reader long after the final pages"
Literatureforlads.com

"Nicola's storytelling is incredibly powerful and she weaves her exhaustive research into the narrative seamlessly … brings the history books to life … an ideal read for fans of The Book Thief and should be required reading for Junior Certificate Students … can see it being read avidly by readers from age ten to adults"
Inkandpaperhearts.wordpress.com

"Sometimes children's fiction can be entertaining. Sometimes it can be thrilling and gripping. Sometimes it can be thought provoking and challenging. Sometimes it can be realistic and educational. And sometimes (but rarely), it can be all these things together. And City of Fate is one of those books … very powerful"
BetweenmyLines.com

"Anemotive and powerful story following the fate of Vlad and three of his classmates forced to fight for the Nazi's. This is the story of the children caught up in some of the bloodiest battles of WW2. A moving and powerful tale that one reads knowing it could well be the truth. A novel fraught with danger but infused with hope"
Armadillo Magazine

"Ideal read for children from 10 years plus … Reading City Of Fate should be a great benefit to any kids who are interested in World History and would be ideal as a read aloud book for teachers … Like John Boyne's The Boy In The Striped Pyjamas and Marcus Zusak's The Book Thief, this novel is not just for kids … I thoroughly enjoyed it and was happy to read of WW2 from the Russian perspective"
BleachouseLibrary.blogspot.com

"Moving, sometimes painful story … exacting research and realism woven into a story of friendship and unlikely alliances to paint a stunning picture of the battle for Stalingrad … the characterisation is superb … the historical accuracy that runs through the text creates a backdrop that makes this book unforgettable … riveting and compelling, City of Fate allows its' readers, both young and old to draw their own conclusions. Simply stunning"
Fallenstarstories.blogspot.ie

"Gripping"
Woman's Way

"As beautiful and memorable as her previous Spirit of the Titanic … all I can say is WOW!"
FallenStarStories.blogspot.ie

"Always fascinating … the author avoids both stereotyping and sentimentality as soldiers on both sides struggle to survive"
Irish Examiner

"Read it, it's an awesome book, extremely engaging!
Elev8, RTE2

"Clearly illustrates the nature of war and questions the concepts of bravery and patriotism … has a very satisfactory conclusion"
ReadingZone.com

"The style is simple and direct and the book should appeal to a wide age range from year 7 through to sixth form … will be a welcome addition to my library and our history department shelves"
ReadingZone.com

"An extremely well structured story that doesn't preach and doesn't cut corners either. Thoroughly enjoyable yet horrendous and moving
ourbookreviewsonline.blogspot.ie

"An absorbing but heartbreaking account of the Battle of Stalingrad"
TheSwallowsNest.net

"Nicola Pierce … skilfully recreates the atmosphere of a society that has unravelled to the point on insanity … Pierce has a very direct, minimalistic style that serves her subject well … a well-written, engrossing story"
TheSwallowsNest.net

"Emotionally taut and empathic, this novel will transport the reader into the very heart of the Second World War"
LoveReading4Kids.co.uk

"A heart-rending story of individual courage and collective endeavour"
LoveReading4Kids.co.uk

"Excellent … vivid and moving"
BooksforKeeps.co.uk

"A true and affecting report of what happened and why"
BooksforKeeps.co.uk

"A truthful, proper end … to a book that will give readers real insight into one of the most important episodes or modern European history"
BooksforKeeps.co.uk

"Compelling and emotional, this story takes the reader right inside the action of the Second World War and shows its impact on the lives of young people"
Parents in Touch

"The target audience will seldom have been confronted with WWII in quite such a way … this book branches out further"
thebookbag.co.uk

"The book is more subtle and clever than just dressing people up in black and white. It takes its time to ask measured questions, provoke moral debate, and more"
thebookbag.co.uk

"The writing is clear and mature"
thebookbag.co.uk

"A welcome look at innocents lost in a war zone"
thebookbag.co.uk

"An intelligent and worthwhile effort, bravely taking us as it does away from the theatres of war Britain and her literature normally considers"
thebookbag.co.uk

"A clever, moral and eye-opening look at a forgotten corner of WWII"
thebookbag.co.uk

"Buy [and] borrow"
thebookbag.co.uk

"City of Fate by Nicola Pierce: a clever, moral & eye-opening look at WWII"
thebookbag.co.uk
PREVIEW
AWARDS
Warwickshire School Library Service Award – 2014
Short-listed
Sign up for the newsletter from updates on Robinson's writing, events and more.